Beginners
Try Scuba Diving
Basic Diver
Looking for adventure during your vacation? Try something new and dive with us! Explore the underwater world and learn more about Kenting's spectacular marine life.
Have you always wondered what it would be like to breathe underwater? If you'd like to try scuba diving but aren't ready to take a certification course, the Scuba Experience and SSI Beginner Diver events should be perfect for you.
You can also sign up directly for Open Water Diver Certification courses. Although Scuba Experience and SSIBeginner Diver are not Not a scuba certification course, but it's a quick and easy introduction to exploring the underwater world. Through SSI's practice-made training mechanism and the professional guidance and guidance of professional coaches, almost every student can complete it easily. The entry-level diver program is provided for friends who love diving activities. If you are good at water and want to know whether you can fall in love with diving, of course you can also participate. Through complete teaching and continuous practice, I believe you can complete it. Diving experience and falling in love with diving.
For a diving experience in Kenting, you can chooseScuba Experience Diving. Scuba experience diving process, the activity time is about 1.5-2 hours. Suitable for friends who don't know how to swim but want to try diving! Provides a diving experience of one tank. Minimum age limit is 8 years. The diving location is a swimming pool or calm water, the maximum depth does not exceed 5M/15 feet.
What is a beginner diver? This experience dive option is suitable for those who love diving This is a good choice for friends who want to dive but can't swim and are a little worried. We provide different plan options of 1VS1 and 1VS2. You can choose a diving plan of 1 time a day or 2 times a day. After completing the full course, you can choose to extend your diving course with an Open Water Diver training course.
SSI International Scuba Diving Certification Course, provides various scuba diving courses from introductory to mastery. SSI International Diving School is using the familiar training method to teach, so that those who want to learn scuba diving directly, SSI scuba diving instruction adopts the online learning program, so that students can study the digital teaching materials through cell phones, tablets (using APP), PC, before attending the course to improve the efficiency of learning.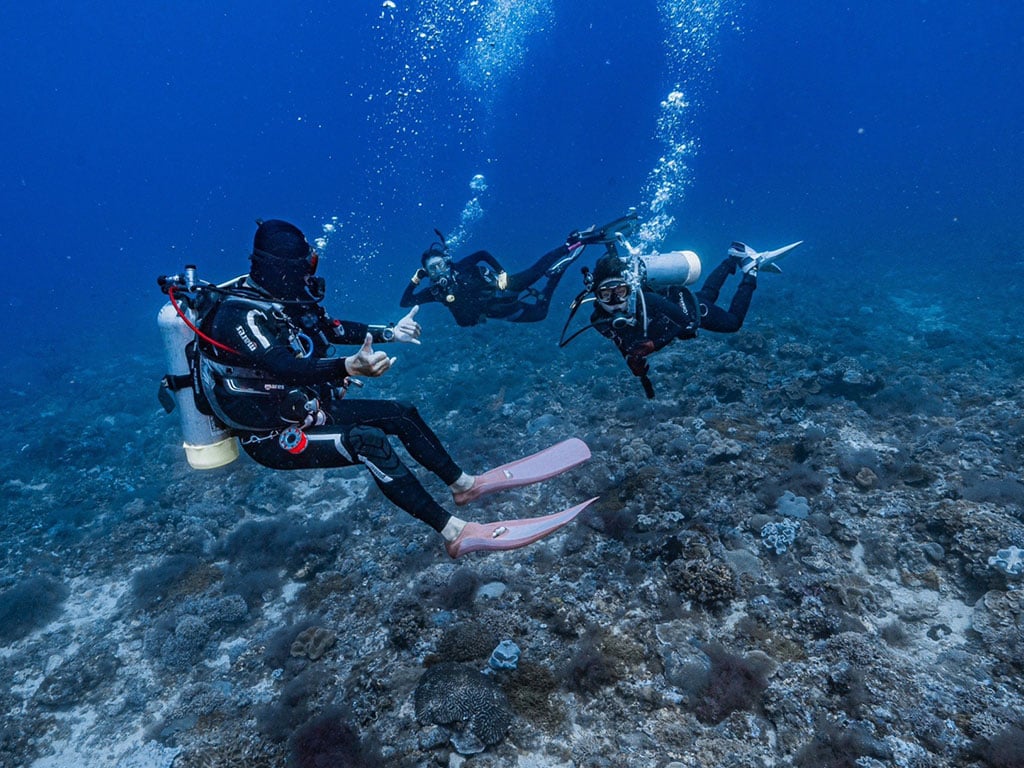 If you feel that the equipment is too heavy and walking is too tiring and you want to dive easily. Or if you are a female friend who wants to experience diving easily, Boat diving experienceis definitely the best choice. If you want to experience the open sea and take a boat ride to experience diving, your visual senses will be amazed by the ocean in a different way. Want to experience diving at different dive sites. Boat diving Experience divingThe depth and terrain are absolutely different compared to shore diving. We offer the option of 1 boat dive and 2 boat dives.
SCUBA SCHOOL INTERNATIONAL
COMFORT THROUGH REPETITION
SSI programs are among the most efficient and tested educational systems in the world today, and we believe that there are four distinct aspects to developing a diver - correct knowledge, skill, equipment and experience. We call this the SSI Diver Diamond.