The Omni-directional Diving System consists of six subsystems
The Snorkeling System
The Exposure System
The Delivery System
The Information System
The Buoyancy System
The Accessory System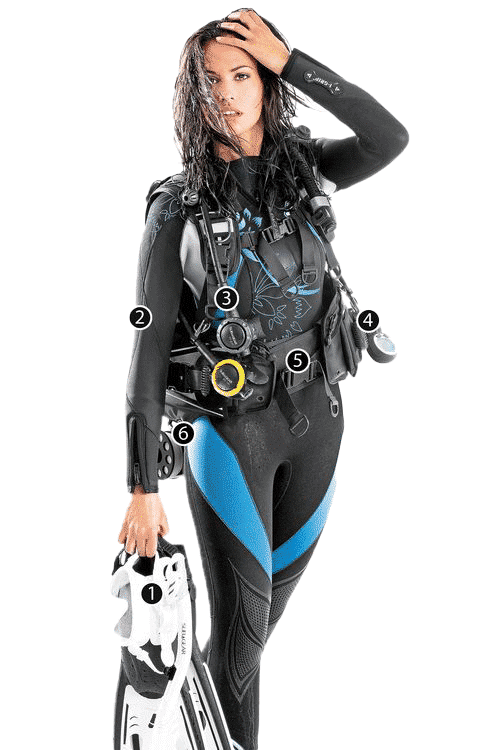 The Snorkeling System allows you to move, breathe and see below while you're at the surface of the water, and it includes your mask, snorkel, boots, fins and mesh bag. Because your mask is your window into the underwater world, fit and comfort are most important when finding a mask that truly works for you. Your snorkel allows you to breathe face-down on the surface, helping you make the move from a land mammal to a marine mammal. Your boots are designed to be worn with fins for comfort and fit. They also serve to protect your feet from chafing and walking on rough surfaces. Your fins propel you through the water with the least amount of energy and effort. Finally, your mesh bag makes it easy to transport your Snorkeling System to and from the dive site while allowing it to drip dry.
As you will learn in Section 3, in order to dive, you must remain warm throughout your dive. The Exposure System is made up of the pieces that keep you warm and comfortable underwater. The Exposure System is made up of an insulating suit, a dive hood for colder water and gloves or mitts. The only other component is after dive wear for when the air temperature is cool or cold in between or after diving.
The Delivery System is arguably your most important piece of equipment in diving. It is the first component of your life support equipment. It is specifically designed to provide you a "sufficient amount of breathing gas" (e.g. Air or Nitrox) underwater in all diving conditions. You'll learn everything you need to know about this crucial system in Section 2.
An integrated part of your Delivery System is the Information System. The most common type of Information System is a dive computer which provides a simple console display that easily allows you to manage air, depth, time, temperature, ascent and descent rates, and repetitive dives. The MySSI Logbook is a way to track the number and type of dives you've made by simply taking the information from your computer and recording it in the logbook. It will quickly become your lifetime adventure diary.
The Buoyancy System is also a component of your life support system. The Buoyancy System enables you to achieve precise buoyancy control throughout the dive, including surface floatation, controlled descents, proper swimming attitude at depth and controlled ascents back to the surface. In the unlikely event of an emergency, your Buoyancy Compensator (BC) should be equipped with both a visual and an audible signaling device and a diver's tool such as knife or rescue shears. Many BCs are weight-integrated, which means that instead of having to wear an uncomfortable weight belt, the weight goes into quick release pockets located in the BC.
The Accessory System is an extension of your Total Diving System. It allows you to specialize and equip yourself for different purposes. Accessory equipment consists of special tools, repair parts, scuba lubricants and cleaners, and anything else that makes diving more fun. You can add to your accessory system by taking the appropriate specialty for the type of diving you're interested in. As you discover the types of diving that appeal to you most, and learn from SSI's specialties in those areas, you'll continue to expand your accessory system: lights for night diving, underwater video gear, search and navigation tools for rescue operations, and more, all of which show what kind of diver you are.
The Importance of Purchasing Equipment from Authorized Dealers

SSI recommends that you purchase your diving equipment from your local SSI Dive Center. Why? Diving equipment is not like other sports equipment, it is your life at stake. In order to get the best out of it and to maximize your enjoyment of every moment of the dive, it should be suitable for you and the type of dive you are going to do. Not all gear is created equal and not all sizes fit the same.
Most distributors of diving brands sell their products and services through a network of Authorized Dealers. These dealers not only tell you about the features and benefits of their products, but they are also authorized to assemble, repair, and provide warranty services for your equipment. There is no shame in buying parallel imports, but you may need to have a "maintenance fund". Diving equipment can last for more than 10 years with proper maintenance, and parallel imports can cost more than twice as much as reseller products. Please think twice before buying parallel imports.
Investing in your own equipment is the best way to start the "Ultimate Diving Experience". Training with your own Total Diving System will help you achieve your goals. The goal is not only to learn to dive, but also to become a competent and confident diver who can absolutely enjoy the underwater world to the fullest.